Where does summer go? It flies, that is for certain, but let's face it, it makes us appreciate every moment and use the time to decompress and get ready to make the next year even better than the one before! As for me, I have spent as much time as possible just taking in the non-techy moments, and while that is sometimes hard to do, I gave it a good shot. Now it is time to get back into the swing of things, as here in Georgia we teachers head back in two short days!
#EdCampFayette sure did get me back into the moment last week at Sara Harp Minter. I loved hosting this great event at our school, and I loved watching so many of us there learning and sharing! I had a blast seeing so many like-minded educators jumping in and truly discovering new ways to take their instruction to the next level!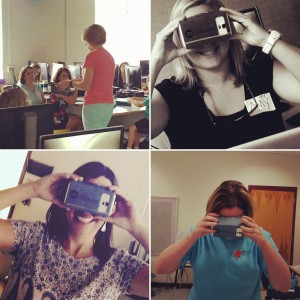 I had so much fun sharing Google Cardboard, and it was so exciting to introduce virtual reality using something as simple as Cardboard with other educators. I noticed that no matter who was experiencing Cardboard, they were smiling. It was an excitement about potential, about opportunity, and about possibility. We discussed the variety of ways we could use Cardboard for instructional purposes, and I think it is safe to say that won't be the last time we think instructionally about virtual reality! I can't wait to see what opportunities arise as Cardboard becomes more utilized!
As the time has come to set my sights on the year to come,  yes Google Cardboard is on the agenda, as are many other new ideas swirling in my head! I am also excited about the learning potential in some new ideas I have in K, 1, and 2 using tablets for 1:1 instruction. I have professional learning goals, collaboration goals, relationship goals, and instructional goals. I have goals for my school relationships, and goals for our district relationships. I feel like we made so much progress last year, I simply must keep that momentum going! I want to continue to build on the dynamic culture around instructional technology, and look for ways to foster other leaders in this journey. For when we see our role in technology as one that fosters growth in learning and in people, we get to watch all of that blossom, while seeing others take the lead. This doesn't make me less needed, rather it gives me the opportunity to learn new things, and take other leaps in technology based instruction. So as you embark on your year, I hope you set goals, dream big, and never stop inspiring!